Regular price
$29.95 USD
$23.96 USD

Save $5.99
Regular price
From
Sale price
$29.95 USD
$23.96 USD

Save $5.99
Unit price
per
Save

$-29.95
Coming Soon!
Add

1

Cube Stand

for only $4.95 each
Add

1

CMY Klean

for only $3.95 each
CMY Cubes use primary colours Cyan, Magenta & Yellow (CMY) and are created to help view life & light through a different lens.

A truly unique and interactive toy, the CMY Cubes will keep children and adults engaged and entertained for hours. Warning: The CMY Cubes are addictive!
Details

What is a CMY Cube?
Our 30,000+ customers are describing it as:
"A mesmerising sensory toy that captivates both all ages"

Prepare to be astounded by its vibrant, eye-catching colours and ingenious design. Our revolutionary cube blends STEAM education with playful curiosity, inspiring logical thinking and a thirst for knowledge.

Delve into the fascinating world of subtractive colour mixing and unlock the secrets of optics and physics. Unleash your imagination and discover the power of the CMY Cube - the ultimate gift for the curious and the creative.

How does it work?

CMY Cubes use primary colours Cyan, Magenta & Yellow (CMY) and are created to help view life & light through a different lens.

This fascinating cube appears to create an ever-changing spectrum of colour, providing you with endless enjoyment.

Each face of the translucent cube is coated in electromagnetically subtractive materials, which at first, appear as cyan, magenta, or yellow.

With a twist and turn of the geometry, these seemingly primary colours magically transform into an array of colours.

Recommended for ages 12+

Shipping

We offer FREE Standard Shipping on all orders over $50 USD and FREE Express shipping on all orders $150 USD and over.

Most orders are dispatched the next business day but please kindly allow for additional dispatch time during busy periods.

For a full break down of our shipping and delivery information, including delivery times & Import taxes (VAT) read our FAQ.
Authorised Retailers

CMY Cubes are the original designers and makers of all of our CMY products and designs.

Our products are available internationally through the Offical CMY Cubes website and our network of authorised retailers and distributors.

Our guarantee for quality is only valid for CMY Cubes Products purchased directly from CMY Cubes or one of our authorised retailers.

The Original CMY Cubes by CMY Cubes is an official Amazon store that also sells official goods. If purchasing on Amazon, please make sure to check the sellers details thoroughly to ensure you are buying an official CMY Cubes product.

If you have any questions or would like to know more, please read our FAQ.
View full details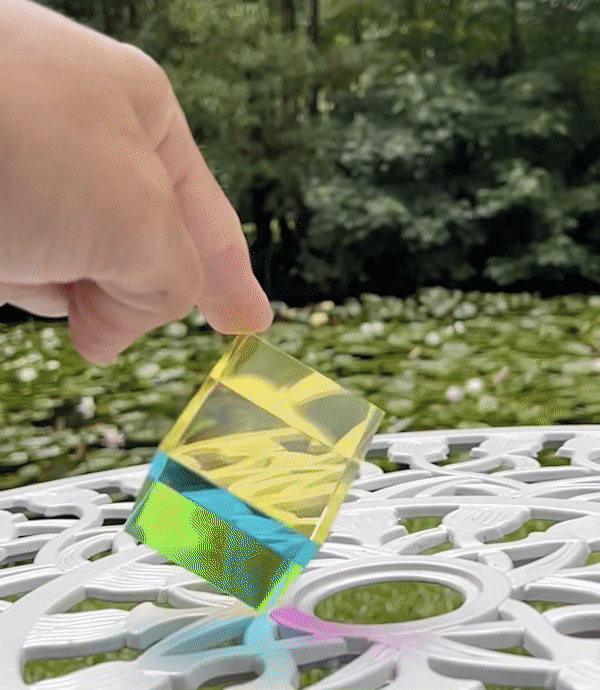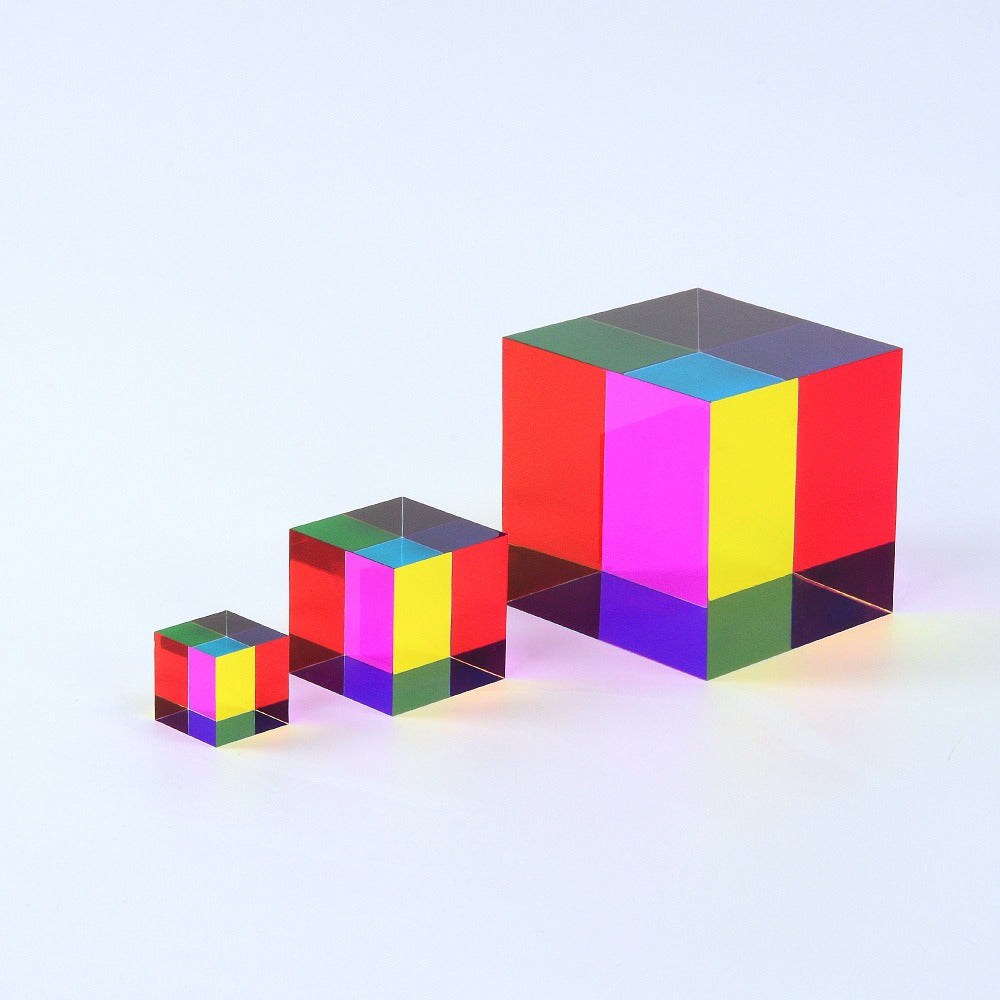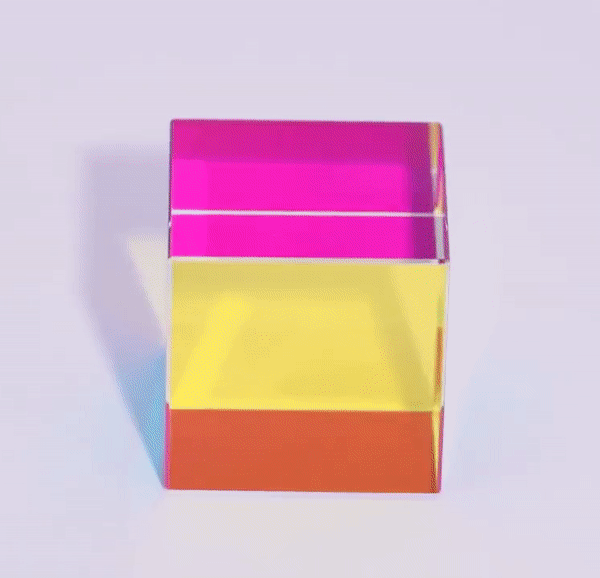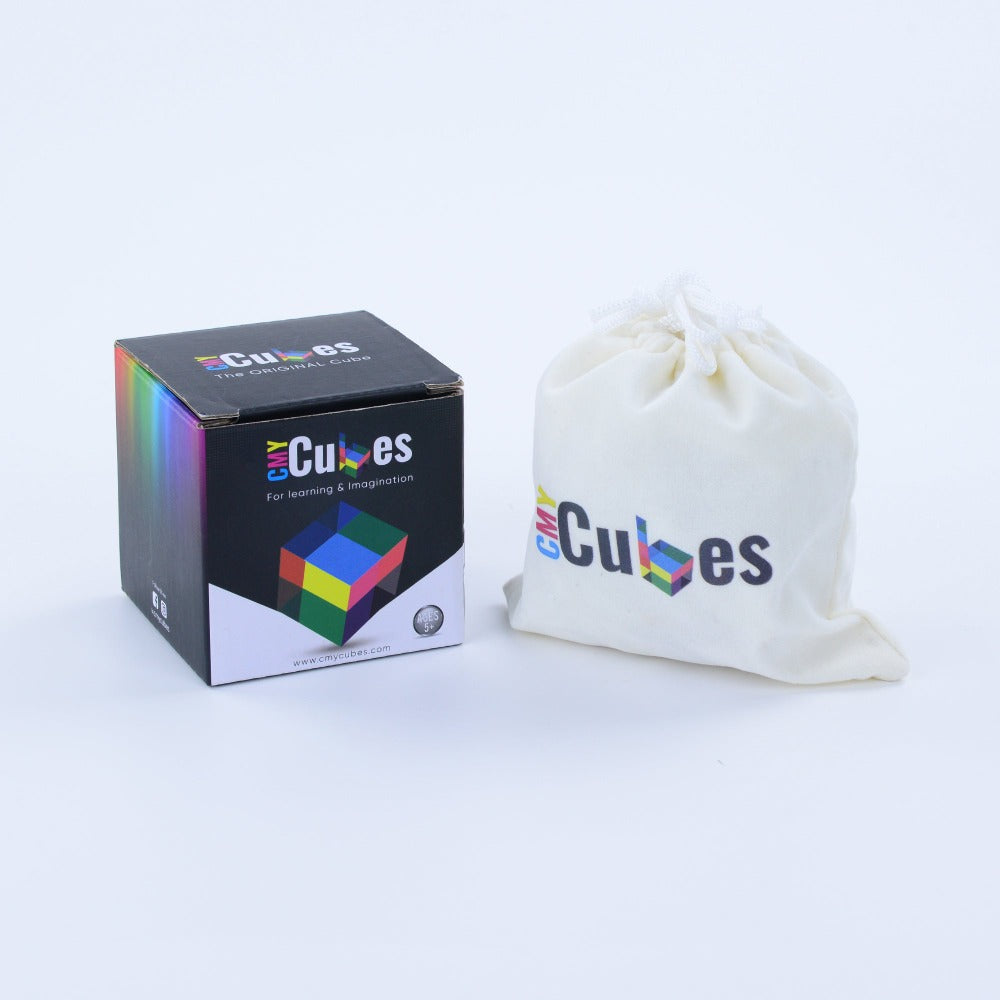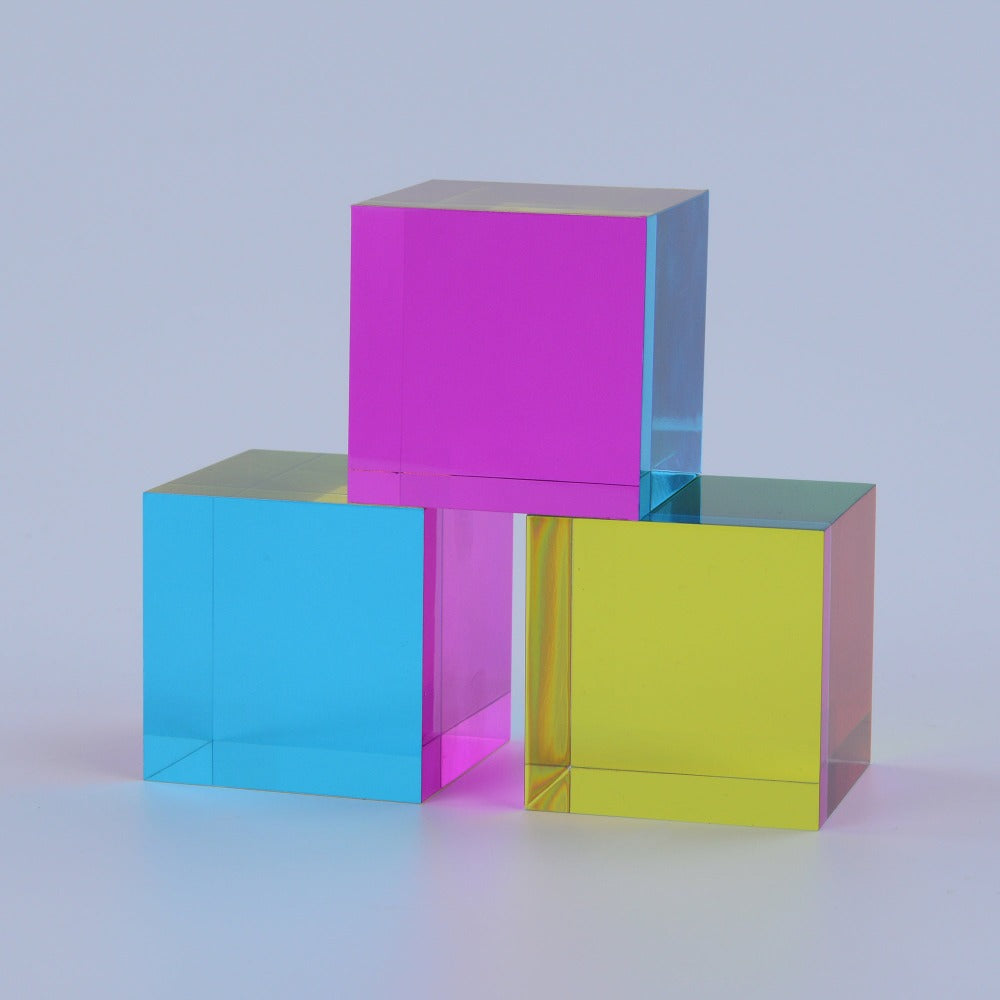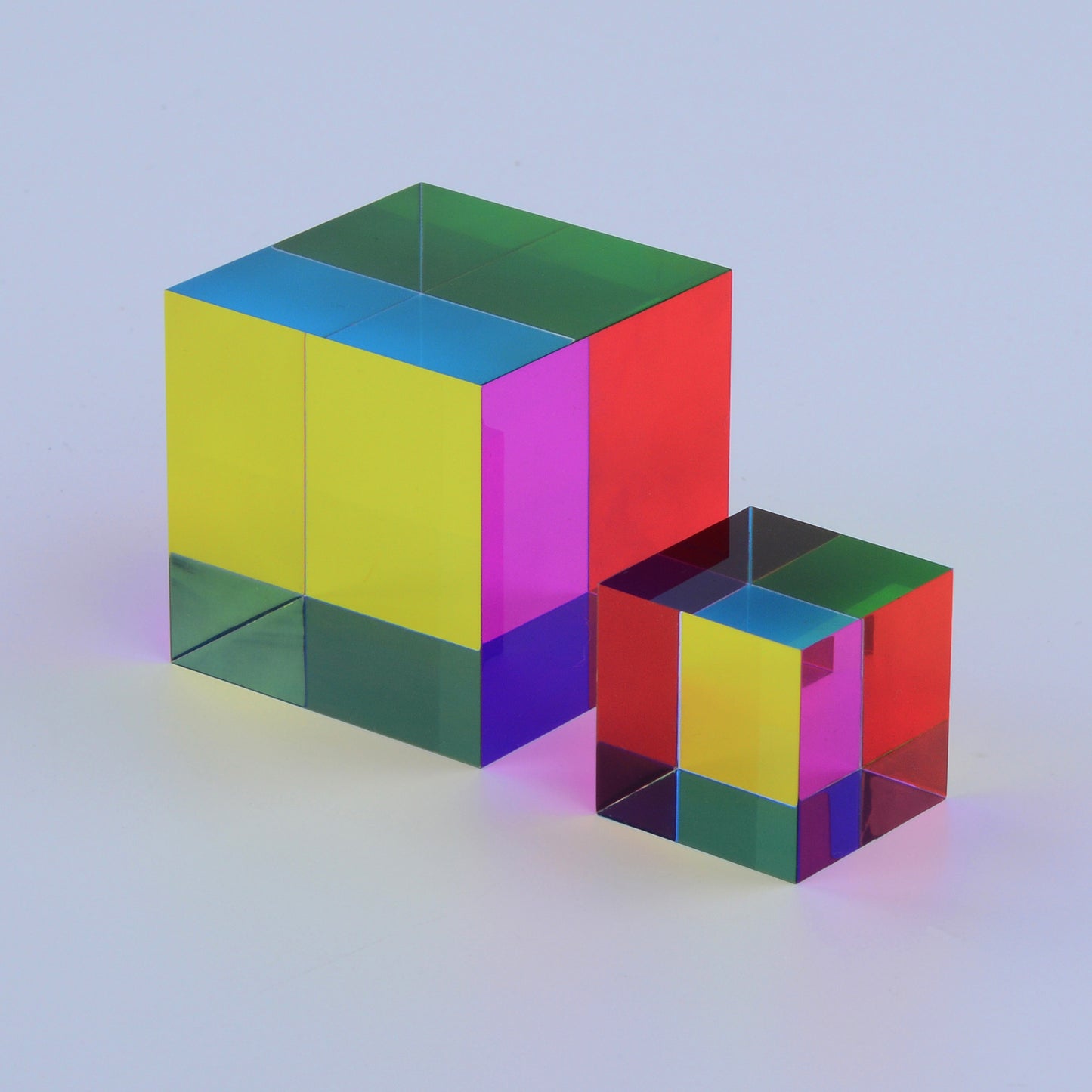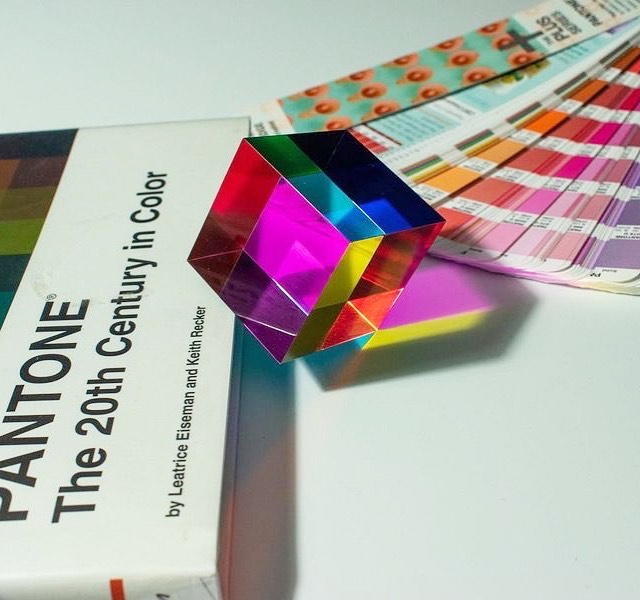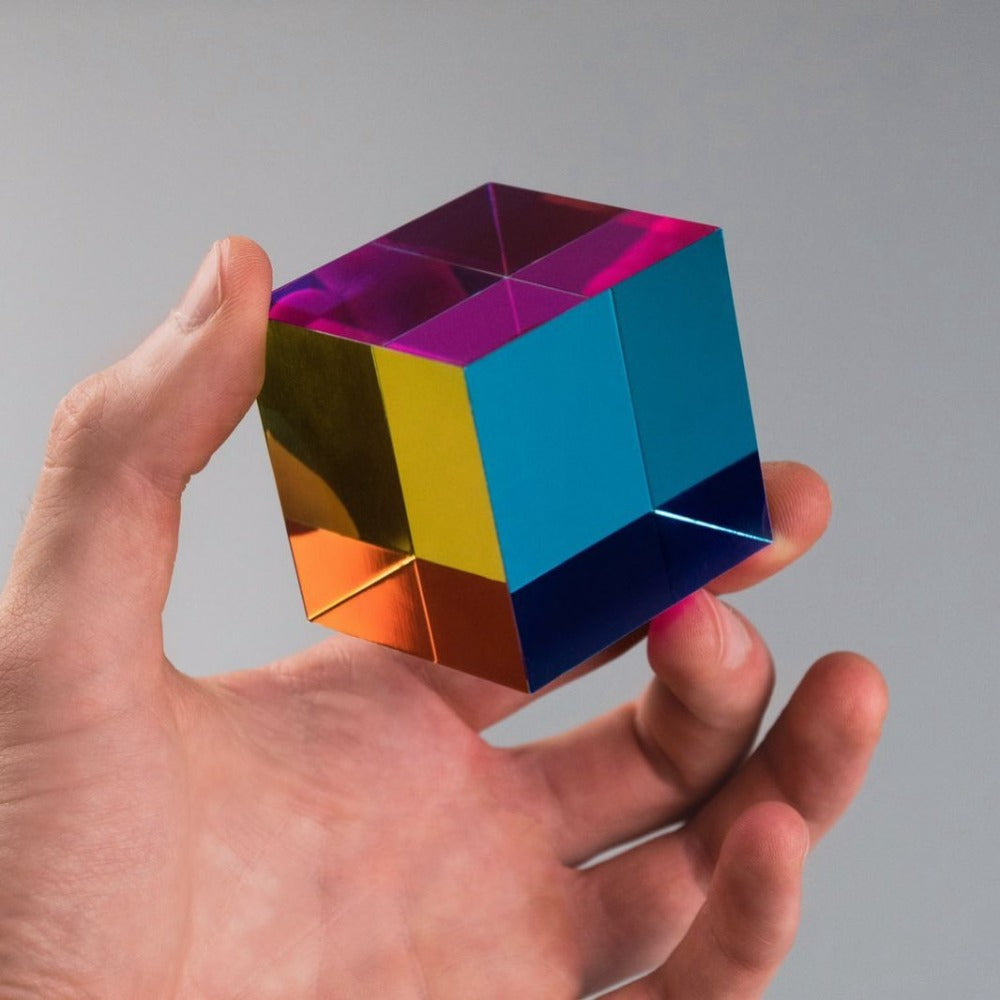 Over 40,000 delighted colour enthusiasts!

We make learning fun for all ages!

8x bigger than competitors

Diamond-polished to perfection

Over 8 different designs to choose from
See how our products are used
Customer Reviews
Write a Review
Ask a Question
12/01/2023
GEORGE
United States
Very happy with transactions.
Very pretty, high quality
Bought a mini cube for me and the original as a gift for family! I keep the mini at my desk at work, and the sunlight streaming through the sides and reflecting out makes beautiful colors — I like to switch between the CY sides with a green reflection and MY with orange.
11/29/2023
Mike J.
United States
High quality, such fun!
A great conversation starter, and just awesome!
11/27/2023
JOHN H.
Australia
Revolving Hues
I recently acquired a revolving light display unit from a university to display small models and relics.The light comes up from the base through a white translucent round revolving at a slow speed.I started looking for a prism or crystal to reflect the light as a feature.I discovered your brilliant items.I have the cube mounted in the middle of the rotating white disc.Looks amazing.I have now ordered some more of your pieces.to feature on the same rotating light disc.
11/27/2023
Tina G.
Australia
Mesmerising
Beautiful, looks lovely on the stand with the sunlight shining through!